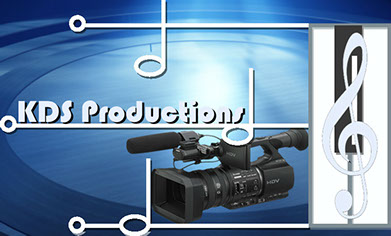 We offer a wide range of options for each of our video packages, ranging from inexpensive to expensive. We'll work with you to choose the options that will create the most memorable video experience you can buy for your money. If you don't see what you need or you're interested in customizing a package, please call or write, and we'll be happy to discuss it with you.
Performance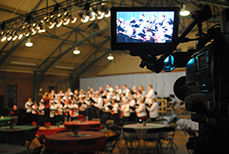 Whether it's a school play, a church pageant, a Master's degree performance recital, or unedited audition tape, KDS can accommodate your needs for a professional-quality performance video with Performance Event coverage. All of our productions are shot in High Definition.
You choose the venue, and we take care of the rest, with broadcast-quality video and audio equipment that ensures your performance is captured to best advantage.
Every performance is unique, so our approach is to discuss the project with you first to make sure we understand what you want. The finished product always includes three copies of the performance on DVD disc, with menus/controls included, titling, captioning, and custom artwork and case.
We can also provide you with an optional audio CD.
Performance event coverage is priced based on the project complexity. Check out a piano recital that we produced in Pickman Hall at the Longy School of Music.
KDS Productions can provide you with live event coverage for civic, community, and other gatherings. If it's special, we can capture it on video for you or stream it live in High Definition over your website. All of our productions are shot in High Definition.
Our crew and equipment ensure that you'll have the coverage you require when catching all the action is critical.
Live events are always multi-camera affairs, and our crew has years of experience and training in working with lighting, shot framing, audio feeds and monitoring, and electronic news gathering.
Live event coverage is priced based on the project complexity
Community Media Consulting/Rentals
The owners of KDS Productions have 25 years of experience in the Community Media field both as a user of Community Media and as professionals staff working at community media centers. We have in-depth knowledge of the technical needs of community media centers. We can consult with your media center on technical facility design, equipment needs, training and production. Our multi-camera remote production equipment is available for rent to centers that may not have their own gear but have a need for a large remote production.
We are happy to offer this to community media centers at a discounted price. This is the same High Definition gear that our corporate clients have access too, with all the same capabilities.
Contact us to see how we may be able to help your community media center.
Corporate
Trade Show booth presentations & hand-outs
Promotions (corporate / product / services)
Sales Training
Company meetings and conferences
Annual Gatherings and Company Functions
All corporate services are individually priced, based on your needs. All of our productions are shot in High Definition.